Grupa: Użytkownik

Posty: 2 #2653746
Od: 2019-4-3


Ilość edycji wpisu: 10
TYLKO ZAREJESTROWANI I ZALOGOWANI UŻYTKOWNICY WIDZĄ LINKI » DARMOWA REJESTRACJA
Hey, we would like to introduce you to Legends of Shinobi - an Open Tibia Server based on popular anime series - Naruto.
The server is build to present to you the unique climat of Naruto, while retaining core gameplay mechanics from Tibia
TYLKO ZAREJESTROWANI I ZALOGOWANI UŻYTKOWNICY WIDZĄ LINKI » DARMOWA REJESTRACJA
TYLKO ZAREJESTROWANI I ZALOGOWANI UŻYTKOWNICY WIDZĄ LINKI » DARMOWA REJESTRACJA
TYLKO ZAREJESTROWANI I ZALOGOWANI UŻYTKOWNICY WIDZĄ LINKI » DARMOWA REJESTRACJA



Server info:

Exp rate -> Custom
Skill rate -> x2
Loot rate -> x1
Chakra lvl -> x2
Spawns rate -> x5


We have 21 playable and balanced vocations and 20 of them are available to all players. Obito Uchiha is available after completing quite hard in-game quest. Every vocation has 9 unique transformations and at least 8 jutsu! More spells are available through missions, quests and completing Naruto saga. Speaking of saga, it consists of three main chapters from naruto.


Normal Saga:

124 missions

Shippuuden Saga:

130 missions

War Saga:

70+ missions

Element Island Saga:

Suiton/Fuuton/Katon/Doton

Gameplay mechanics:


Wanted System - a system which allows you to place a bounty on someone's head.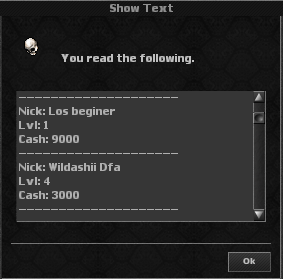 Auction System - you can buy and sell in-game items without the need to flood the chat with offer messages.



Crafting System - collect rare items to create powerful equipment.



Pet System - Every player with 150 lvl and premium account after completing a short quest gets a random companion with unique set of abilities.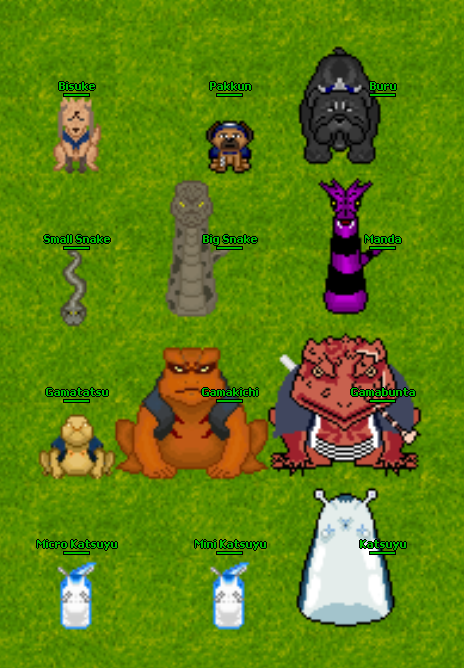 Combo system - every vocation has an additional spell (special) and a sequence of spells (combo II) which have various effects and fit their character.



Skin System: if you don't like the standard look of your character you can always buy an alternative version of all transforms and up to 5 different special outfits to fit your needs.



Cast System - every player can share his gameplay with others. You just have to enter a simple command and login with blank account number and password to access our cast system.

War System - arrange wars between guilds with point system and no frag loss. You can also modify the damage ratio when you fight opposing guild to make it more interesting.

Enchanting System - enchant your weapon with special scrolls.

Boss system - after killng the required amount of monsters, a boss will spawn, which can reward you with:
► large amount of exp
► higher chance of rare/legendary items
► $$$

Special Jutsu - every vocation can learn a special spell after completing dojo quest. These spells usually have longer cooldowns, but can be a deciding factor in a tight situation.


Element Jutsu - after reaching certain point in Naruto saga you are given one of the five elements at random with whole set of new abilities and powerful jutsu.


The map


New website
The new website with modern design let's you have only one login and password to both game site and integrated forum.





How to make an account?
https://youtu.be/PvepsoOPT-M
trailer:
https://youtu.be/-H2lxF6PMfI

See you soon on sever!